Art 6-8: Easter Arty Plants
Easter Four full days 10-4 pm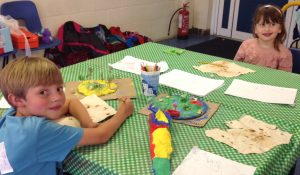 £185 including all materials
Our projects will be based on the glorious shapes, colours and textures of plants, leaves and flowers and will include :
Clay leaf imprinted tray; large plant drawing finished in acrylic; Mixed media decorated glass jar; Decorated terracotta pot
Whilst working on these exciting projects our young artists will learn about :
Working with clay

Using Acrylic paint

Experimenting with mixed media

Drawing and painting

Making paper
---
Tutor : Gillian Wood
Gillian Wood: Since graduating in Surface Pattern Design, Gillian has worked as a teacher and a ceramicist. For the last 12 years she has produced a large range of work, mainly commissions, from her own pottery studio. As well as working the UK, Gillian has participated in projects in Japan and Portugal.
Book this course
To book this course go to Online Booking form here
1 Feedback on this course »
Leave Feedback
You must be logged in to post any feedback.