Art 6-8: Week 1 & 2 Magical Architecture
Summer Weeks 1 & 2 Four full days 10-4 pm
£185 including all materials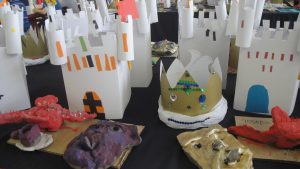 Our young artists will be inspired by the colours, shapes and concepts of Spanish artists Joan Miro and Antoni Gaudi and complete a number of exciting projects.
Having looked at … Read the rest
Art 6-8: Week 3 Fantastical Creatures
Summer Week 3 Four full days 10-4 pm
£185 including all materials
This course is all about mythical creatures such as mermaids, minotaurs, griffins and unicorns and our young artists will create a number of amazing artworks including:
A painted clay creature
A multi … Read the rest
Discover Science 6-8 years
Summer Weeks 1, 2, & 4
Four full days 10am – 4pm £195
A fun introduction to science, ecology, physics, and natural science.
Through a series of intriguing experiments and activities children learn in a relaxed and … Read the rest
Extended Days – Breakfast and Tea Club
For all ages
For those children attending our courses who need to arrive early and leave late. Supervised play, food and relaxation. Organised activities, entertainment and games. Book in advance.
Breakfast 8.30 – 10.00am
Cereal, croissants, toast, fruit and juice
Tea Club
…
Read the rest
Skate Boarding 6-16 years
Summer Week 1, 2, 3 & 4
Four full days 10am – 4pm £205
Skate Boarding enhances core balance and fine motor skills as well as increasing confidence.
Participants will enjoy four days of exhilarating and challenging fun.
The group will be divided up according to appropriate … Read the rest
Storytelling 6-8 year olds
Summer Weeks 2 & 4
Four Full Days 10am – 4pm £180
This fun and exciting course encourages children to explore stories they already know, hear new stories, create their own special story and become storytellers themselves. During this entertaining workshop our young students will :
…
Read the rest
Street Dance 6-8 years
Summer Weeks 1 & 4
Four Full Days 10am to 4pm £170
Fun, funky and energetic workshop! An opportunity to learn to dance like Diversity and Flawless and be in your own dance crew like those on "Got to Dance"! We will teach you the basics … Read the rest