Animation 7-10 years
Summer Weeks 1, 3 & 4,
Four full days 10am – 4pm £190
Learn the basics of animation whilst working as part of a group to make an animated film. Each student will contribute to the narrative and create their individual piece of animation for the collaborative film. … Read the rest
Art 8-10: Enchanted Gardens

Summer Week 3
Four Full Days 10am to 4pm
£180 includes all materials
During this workshop students will build a box with a spy hole to reveal a hidden garden insde.
This fun course will cover: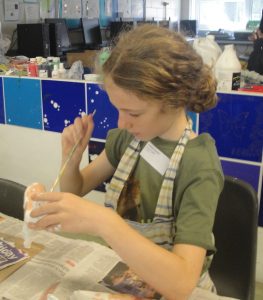 Basic 3D construction

Watercolour and oil pastel

Drawing

Botanical sketching

Understanding perspective
…
Read the rest
Cake Decorating 8-16 years
Summer Week 1& 2 Fully booked ,
Some places available in weeks 3 & 4
Four full days 10am – 4pm
£213 including all ingredients
Learn how to make your cakes look amazing! Students will decorate a variety of cakes, biscuits, cup cakes etc. to take … Read the rest
Cookery and Craft 8-16 years
Summer : Places available on Week 4.
(Weeks 1, 2 & 3 are fully booked)
Four full days, 10am – 4pm
£218 Includes all ingredients and materials.
Four days making delicious and nutritious food to share with your family.
Learn invaluable skills which will last a … Read the rest
Creative Writing 8-11 years
Summer Week 2 Full, Places still available on Week 3
Four full days 10-4pm £175

Do you love making up and writing your own stories?
Is your secret ambition to become a famous author?
This fun introductory course will inspire and encourage you, stimulate your creativity and … Read the rest
Drawing & Illustration Ages 8-16
Summer Weeks 2, 3 & 4
Week 1 is fully booked
Four full days 10-4pm
£185 Includes all materials
…
Read the rest
Extended Days – Breakfast and Tea Club
For all ages
For those children attending our courses who need to arrive early and leave late. Supervised play, food and relaxation. Organised activities, entertainment and games. Book in advance.
Breakfast 8.30 – 10.00am
Cereal, croissants, toast, fruit and juice.
Tea Club 4.00
…
Read the rest
First Aid 8-16 years

Summer Weeks 1 & 2
Four full days 10am to 4pm
£180 Includes all materials
First Aid skills enable young people to keep themselves and those around them safe. Learning how to be confident in an emergency situation and knowing what to do next can be … Read the rest
Gardening 7-16 years
Summer Weeks 1 & 2
Four full days 10am to 4pm £180
With a huge upsurge of interest in "growing your own" this course is a great starting point to learn the basics of a skill which can bring a lifetime of enjoyment. Learn about flowers, herbs, fruits, vegetables and … Read the rest
Mosaic Madness 7-16 years
Summer Week 4
Weeks 1 & 2 are fully booked

Four Full Days 10am – 4 pm
£190 Includes all materials
There is something truly magical about this ancient method of decoration – taking all those small pieces and putting them together to create … Read the rest