Pottery 7-9 years
Summer Week 1
(Weeks 3 & 4 are fully booked)
Four Full Days
10am – 4pm
£215 Includes all materials.
Discover the joy of being creative with clay by making decorative and functional ceramic works. A comprehensive introduction to the basic pottery techniques: coiling, slab … Read the rest
Programming 8-10 years
Summer Weeks 2 & 4
Four full days 10am – 4pm £185
Tap into your inner Geek!
Would you like to learn computer coding? Go from being a passive user to actually creating your own programmes. In the technology led world, learning how to code is … Read the rest
Discover! 6-8 years
Summer Weeks 1, 2, 3 & 4
Four full days 10am – 4pm
£190 Includes all materials
A fun introduction to science, ecology, physics and natural science.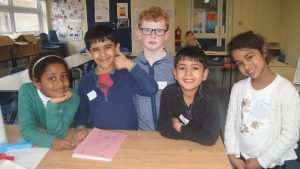 Through a series of intriguing experiments and activities children learn in a relaxed and enjoyable setting.
This will be a … Read the rest
Skate Boarding 6-16 years
Summer Week 4
Four full days 10am – 4pm £200
Skate Boarding enhances core balance and fine motor skills as well as increasing confidence.
Participants will enjoy four days of exhilarating and challenging fun.
The group will be divided up according to appropriate age / skill … Read the rest
Storytelling 6-8 year olds
Weeks 2, 3 & 4
Four Full Days 10am – 4pm

£175
This fun and exciting course encourages children to explore stories they already know, hear new stories, create their own special story and become storytellers themselves. During this entertaining workshop our young students will :
…
Read the rest
Street Dance 6-8 years

Summer Weeks 1, 2, & 4
Four Full Days 10am to 4pm £170
Fun, funky and energetic workshop! An opportunity to learn to dance like Diversity and Flawless and be in your own dance crew like those on "Got to Dance"! We will teach you the … Read the rest