Discover! 6-8 years
Summer Weeks 1, 2, 3 & 4
Four full days 10am – 4pm
£190 Includes all materials
A fun introduction to science, ecology, physics and natural science.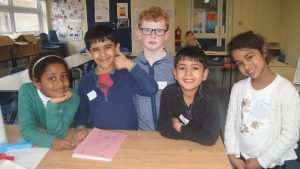 Through a series of intriguing experiments and activities children learn in a relaxed and enjoyable setting.
This will be a "hands on" experience with an inspirational and engaging teacher.
Join us to discover some amazing things about our world.
Topics covered will include :
Natural World – Plants, Habitats, Ecology, Animals and Bugs
The elements – Water and gasses
Space and the Solar System
Flight
Electricity
---
Tutor: Kat Merrick
Kat Merrick specialises in bringing learning to life for children and has worked with young people all over London. She has delivered childrens' science workshops for over four years. Kat believes in discovering by doing and uses her performance background to make learning exciting and fun!
Book this course
To book this course go to Online Booking form here
1 Feedback on this course »
Leave Feedback
You must be logged in to post any feedback.