Extended Days – Breakfast and Tea Club
For all ages
For those children attending our courses who need to arrive early and leave late.
Supervised play, food and relaxation. Organised activities, entertainment and games.
Book in advance.
Breakfast 8.30 – 10.00am
Cereal, croissants, toast, fruit and juice
Tea Club

4.00 – 5.45pm
Sandwiches, cakes, fruit and drinks.
Full Board £90 per week
Four days – both Breakfast and Tea
Half Board £55 per week
Four Days – either Breakfast or Tea Club
Individual Sessions

£17.00 each session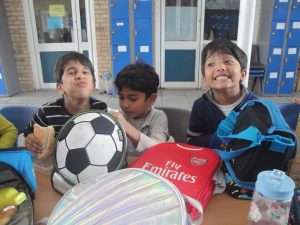 Either Breakfast or Tea Club
'Great outside space for break time activities'
'My boys loved the helpers at breakfast and Tea time, always good for boys to have older male role models to interact with'
'Sam loved the free time at breakfast club mixing with other children and sports games'
'My daughter loves meeting and making new friends and the adventures at lunch and breakfast time'
Book this course
To book this course go to Online Booking form here
3 Feedback on this course »
Fantastic – cannot fault these courses. From booking to leaaving on the final day – it was just so friendly and efficient, warm and welcoming with a strong sensse of care, trust and security.

Very convenient for working parents.

The extended day availability is very valuable to me as a working parent, it is very well organised and my son really enjoyed attending the sessions.
Leave Feedback
You must be logged in to post any feedback.