First Aid 8-16 years
Summer Week 2
Four full days 10am to 4pm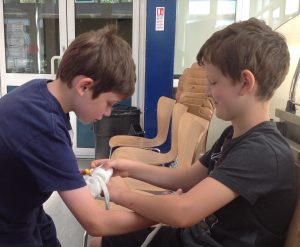 £190 Includes all materials
First Aid skills enable young people to keep themselves and those around them safe. Learning how to be confident in an emergency situation and knowing what to do next can be life saving. These skills are particularly useful for young people who are planning to do some babysitting, take part in D of E, go on a Gap year, etc.
We teach First Aid through a series of age relevant dramatic scenarios. During this fun, active and enjoyable workshop students will develop and practice their skills.
Topics covered will include :
What to do with an unconscious person
Allergic reaction
Asthma attack
Broken bone
Burns
Choking
Head injury
Heart attack
Hypothermia
Meningitis
Poison
Seizures
Strain and sprain
Stroke
At the end of the course each student will take home handouts to remind them of what they have learned.
Tutor: Leanne Williams
Leanne Williams: Since graduating as a teacher with a diploma in musical theatre, Leanne has taught a variety of courses and workshops as well as working on shows for the BBC and ITV. Leanne has also choreographed various shows, pantomimes and ceremonies.
Book this course
To book this course go to Online Booking form here
2 Feedback on this course »
Leave Feedback
You must be logged in to post any feedback.