Robots with Lego 9-16 years

Summer Weeks 1, 2, 3 & 4
Four full days
10am – 4pm £195
Using your imagination, creative skills and the latest technology, design and build walking robots, animal robots, tanks, robotic arms.
Let your imagination fly!
Working as part of a team you will learn basic programming skills as you use a computer to teach your robot to perform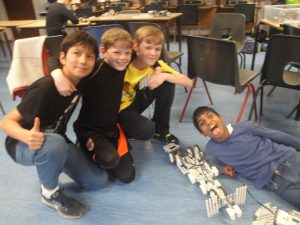 tasks at your command.
This is a very popular class so please book early to avoid disappointment.
_________________________________________________________________________
Tutors: Amelia Glasgow and Paul Manuel
Amelia Glasgow is a primary school teacher and has been working in education for over 5 years. She loves working with children and focuses on making learning fun so that all her students reach their fullest potential. She looks forward to seeing what exciting robotic ideas the students come up with this year.
Paul Manuel is currently a Primary PGCE student at St. Marys University in Twickenham. He is an experienced Robots with Lego Tutor, and enjoys the challenge and problem solving involved in the projects. As a child he loved playing with LEGO, so is now delighted to have the opportunity to work with it!
Book this course
To book this course go to Online Booking form here
2 Feedback on this course »
Computers, programming, invention and Lego, my daughter really enjoyed this course. A winner.

Everything was very well run, ensuring the maximum amount of time building the robots. Wonderful content, presented in an exciting yet simple way allowing the kids to make the most of the week.

Quote from Elliot," Amazing! I absolutely loved it. The most favourite of all courses I've ever done!
Leave Feedback
You must be logged in to post any feedback.