Animation 7-10 years
Summer Weeks 1 & 4
Week 3 is fully booked
Four full days 10am – 4pm £210
Learn the basics of animation whilst working as part of a group to make an animated film. Each student will contribute to the narrative and create their individual piece of animation … Read the rest
Art 6-8
Summer Weeks 3 & 4
Weeks 1 and 2 are fully booked.
Four full days 10-4 pm
£200 including all materials
This course will give our young artists the opportunity to create a number of amazing artworks using a wide range of materials and methods … Read the rest
Cake Decorating 8-16 years
Fully Booked

Four full days 10am – 4pm
£235 including all ingredients
Learn how to make your cakes look amazing! Students will decorate a variety of cakes, biscuits, cup cakes etc. to take home each day.
Topics covered will include:
…
Read the rest
Coding 8-10 years
Summer Week 1, 2 & 4
Four full days 10am – 4pm £195
Would you like to learn computer coding? Go from being a passive user to actually creating your own programmes. In the technology led world, learning how to code is a skill for life. … Read the rest
Cookery & Craft 8-16 years
Summer Fully booked. Telephone 0208 742 3936 to go on our waiting list.
Four full days, 10am – 4pm
£240 Including ingredients and materials
Four days making delicious and nutritious food to share with your family.
Learn invaluable skills which will last a … Read the rest
Creative Writing 8-11 years
Summer Week 3
Four Full Days 10am – 4pm £195
Do you love making up and writing your own stories?
Is your secret ambition to become a famous author?
This fun introductory course will inspire and encourage you, stimulate your creativity and develop your confidence.
Topics … Read the rest
Discover Science 6-8 years
Summer weeks 1, 3 & 4

Four full days 10am – 4pm £210
A fun introduction to science, ecology, physics, and natural science.
Through a series of intriguing experiments and activities children learn in a relaxed and enjoyable … Read the rest
Drawing & Illustration 8-16
Summer Weeks 1, 2, 3 & 4
Four full days 10-4pm
£205 Includes all materials
Everyone wants to be able to draw and now is your chance to learn how to do it well. Amazing results can be achieved once you have mastered the basics! Discover how … Read the rest
Extended Days – Breakfast and Tea Club
For all ages
For those children attending our courses who need to arrive early and leave late.
Supervised play, food and relaxation. Organised activities, entertainment and games.
Book in advance.
Breakfast 8.30 – 10.00am
Cereal, croissants, toast, fruit and juice
Tea Club
…
Read the rest
First Aid 8-16 years
Summer Week 2
Four full days 10am to 4pm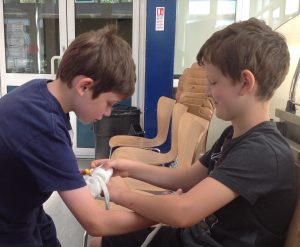 £190 Includes all materials
First Aid skills enable young people to keep themselves and those around them safe. Learning how to be confident in an emergency situation and knowing what to do next can be life … Read the rest